Shire Danbury Wooden Log Cabin 7x7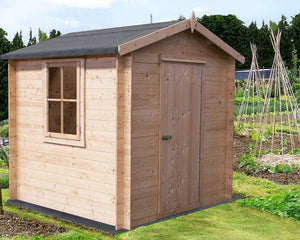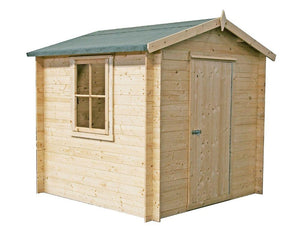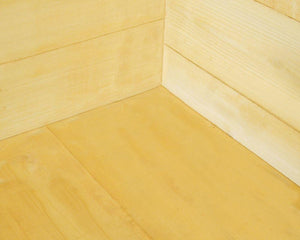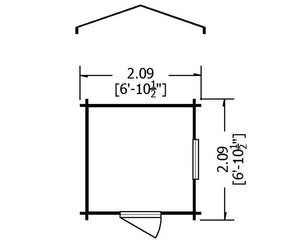 About This Log Cabin
A robust log cabin style garden shed or workshop with a fully framed single door and a joinery quality opening window.  Tongue and groove roof and floor with pressure treated bearers.
Door is fully framed and features a full length piano style hinge to improve security. The side hung opening window is a joinery standard, storm resistant design.
The interlocking timbers that make up the walls of the building are 19mm thick some 50% thicker than a normal garden shed, roof and floor are 12mm thick. 
Where dimensions are critical please check internal (Floor) sizes as Log cabins are sized to the edge of the individual boards.  Internal eaves height is a full 6' (1825mm). The building is manufactured here in the UK and all of the wood used is high grade, FSC approved Northern European Pine.  The floor is included in the price. 
Dimentions
A quality shed, workshop or den
19mm thick interlocked logs
Made in Britain from High grade pine
7 x 7
Internal Dimensions (mm) 1852 x 1852
External Wall Dimensions (mm) 2090 x 2090
Extreme dimensions including Roof overhang (mm) 

2220 x 2220



8 x 8
Internal Dimensions (mm) 2152 x 2152 
External Wall Dimensions (mm) 2390 x 2390
Extreme dimensions including Roof overhang (mm) 2520 x 2520
9 x 9
Internal Dimensions (mm) 2452 x 2452
External Wall Dimensions (mm) 2690 x 2690
Extreme dimensions including Roof overhang (mm) 2820 x 2820
Best Lead Time:
14 Days (Size: 7x7)
14 Days (Size: 8x8)
90 Days (Size: 9x9)