Shire Barnsdale Log Cabin 7x7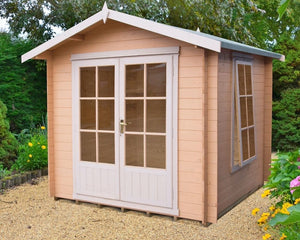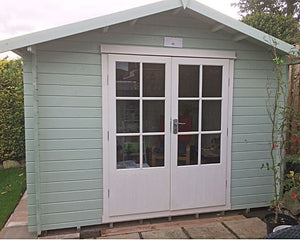 About This Log Cabin
This beautiful  Barnsdale wooden cabin with double doors brings contemporary design to a popular garden retreat. Made from high grade FSC approved timber with interlocking log cladding and a tongue and groove roof and timber floor, you can be sure there''s no compromise on this traditional and sturdy design. The extended roof overhang provides shade and shelter from the rain.
The opening joinery window fits either side of the cabin, offering you flexibility and choice as well as natura illumination. Whether you use this cabin as a summerhouse.  a workshop or simply storage space, this well crafted design makes it all possible. Supplied untreated. Allowance should be made for roof overhang and access for painting and during installation. Following your order, you will be sent a link to choose your delivery day. On the morning of delivery day you will also receive tracking information.

Best Lead Time:
14 Days (Size: 7x7)
14 Days (Size: 8x8)
14 Days (Size: 9x9)
All fixings, mineral roof felt and assembly instructions are provided.
| | | | | | | | | | |
| --- | --- | --- | --- | --- | --- | --- | --- | --- | --- |
| Summary of Garden Building dimensions (mm) |   |   |   |   |   | Garden Building heights (mm) |   |   |   |
| Internal Dimensions |   | External Wall Dimensions  |   | Extreme dimensions including Roof overhang  |   | Internal | External  | Internal  | External  |
| Width  | Depth | Width  | Depth | Width  | Depth  | Ridge | Ridge | Eaves | Eaves |
| | | | | | | | | | |
| --- | --- | --- | --- | --- | --- | --- | --- | --- | --- |
| 1852 | 1852 | 2090 | 2090 | 2220 | 2420 | 2080 | 2140 | 1825 | 1910 |
|   |   |   |   |   |   |   |   |   |   |
| 2152 | 2152 | 2390 | 2390 | 2520 | 2720 | 2150 | 2290 | 1825 | 1910 |
|   |   |   |   |   |   |   |   |   |   |
| 2452 | 2452 | 2690 | 2690 | 2820 | 3020 | 2205 | 2345 | 1825 | 1890 |